This prickly pear ginger cocktail is a low alcohol punch perfect for serving in large pitcher at parties. The fresh prickly pear fruit is balanced with herbaceous tequila (of course) and a homemade ginger liqueur (recipe included!), all topped with effervescent soda water to be light and refreshing.
Did you know that tuna tastes great in cocktails? No, no, not the fishy kind! This kind: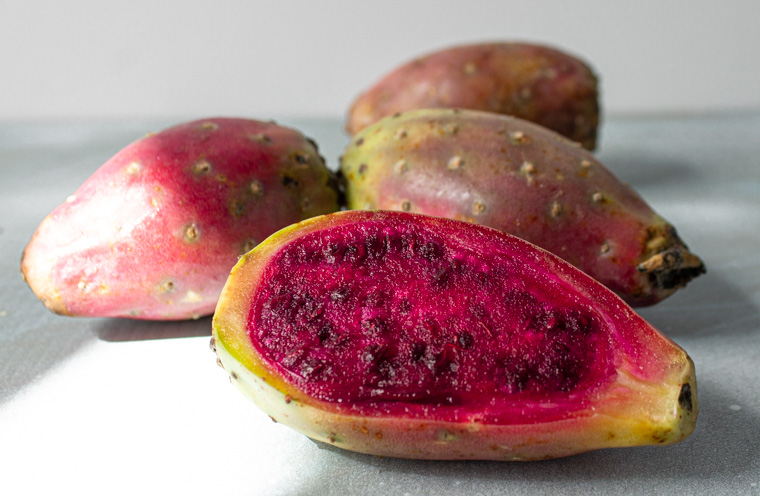 Sorry. I was having language fun. Of course tuna is the proper name for the fruit of the prickly pear/paddle cactus (the paddles themselves are eaten under the name nopales). If you're evil like me (and an English language speaker), you might want to add this to your list of food words to confuse people with. Who says playing with your food is limited to throwing it around?
But anyway, had to get that out of my system. Have to keep the fun in writing all this. And pump myself up to give you a solid week of my late summer recipes that hadn't made it out yet. California's weather has taken a drastic drop in temperature this week (100F – 70F in the course of three days), prodding me to get these recipes out while some people can still enjoy them. And even though the temperature is dropping fast, there's still fresh summer produce in the markets so you might as well have some good recipes to use it in.
Born out of the What to Make with Prickly Pear? question (because yes, I do buy things that just look fun at the farm stands), I created with cocktail for a party a friend (and fellow food blogger) was throwing featuring Oaxacan cuisine. And I've had some homemade ginger liqueur that I was just looking for the perfect recipe to feature it in before I shared it with you. Kept it low alcohol because I knew most people at the party were driving, and voila! Fun and festive yet sophisticated and light.
The prickly pear fruits I used were a vibrant pink, but some are more orange. Both these colours of fruits are ripe. The colour variation is simply an indicator of different varieties.
Like many of the other liqueurs I have made, home made ginger liqueur is easy. Lots of fresh ginger, vodka, sugar, and just a squeeze of lemon juice. It takes a bit of waiting time, but once you have it, ginger liqueur stores for months at room temperature. No refrigeration needed. Sounds perfect for all those cocktails you want some warm spices in later in the fall.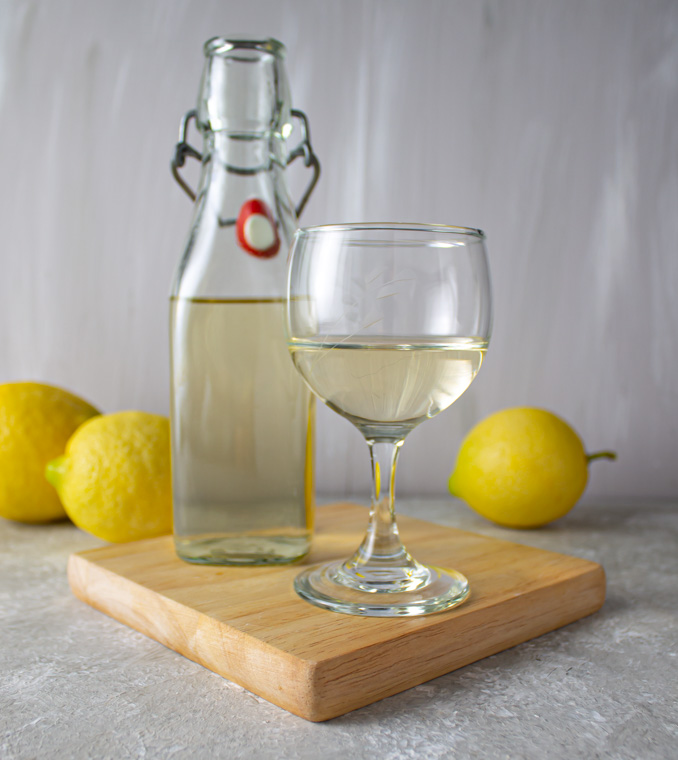 Unfortunately this cocktail does not scale down to a single drink very well. It was designed as a late summer party drink and there it must stay. But that does make it a good excuse to have a few people over while it is still light in the evenings.
Prickly Pear Punch
Ingredients
2

fruits/135g prickly pear flesh

3

oz/90ml ginger liqueur*

2

oz/60ml blanco tequila

¾

oz/22ml lemon juice

¾

oz/22ml lime juice

½

tsp/3ml orange flower water

2

dashes orange bitters

¼

oz/7ml mezcal

8

oz/240ml soda water
Instructions
Muddle prickly pear flesh with tequila and ginger liqueur. Shake with ice.

Strain into pitcher and add remaining ingredients except for soda water. Stir to combine.

Add several large ice cubes (they won't melt as fasto the pitcher and top with soda water.
Notes
*You can of course use a purchased version. I suggest one that is less sweet and has a bit more fresh ginger bite.
The cocktail can be prebatched without the soda water for up to two days before serving. Store in an air tight jar in the fridge if doing so.
Homemade Ginger Liqueur
Ingredients
3 ½

oz/100g peeled ginger root

sliced

2 ¾

c/650 ml vodka

2

tbs/30ml honey

½

c/100g granulated sugar

1 ½

c/360ml water

1

tbs

+ 2 tsp/25ml lemon juice
Instructions
In a large jar or airtight plastic container, soak thinly sliced ginger in vodka in a cool-room temp area for 10-12 days.

When desired spice intensity is reached (most of colour is leached out of the ginger), strain ginger out of liquid.

Heat honey, sugar, and water in a saucepan on med-low until all sugar is dissolved and the syrup just begins to simmer. Remove from heat and allow to cool.

Combine ginger infused vodka with 375ml of syrup solution and lemon juice. Add more syrup or lemon juice to taste. Store at room temperature in a closed jar or bottle.