Spiced persimmon bread with fuyu and hachiya persimmons is a great fall treat (or breakfast). And an additional 15+ sweet and savory persimmon recipes for using up the bounty of fall! Today's Dash of Science: Ripening and freezing fruit.
Persimmons are interesting because they are one of those fruits you simply cannot find when it is out of season. Yes, global economy, imports do happen, but not often. But of course when it's in season – well I hope you have enough recipes for the immense number available from your tree, your neighbour's tree, or perhaps that coworker that put a 10lb bag on the breakroom table. Which is of course why I brought together a bunch of sweet and savoury persimmon recipes from some great bloggers plus my own persimmon bread which uses both varieties of persimmon.
Types of Persimmon
Hachiya persimmons are elongated, slightly acorn shaped. They are picked while still hard (and sold that way), but they need to soften before they are edible. And never try to eat the skin – it is very bitter. Once soft and mushy (the fruit becomes almost translucent), the pulp can be used in a lot of ways: smoothies, jams, on pudding or in baked goods much the same way you would use mashed bananas.
Fuyu persimmons are flatter and sweet when still firm. The skin is edible, but many still prefer to peel them before using. It is best to treat them as an apple in recipes. In fact you can do a direct replacement between apple (or pear) and fuyu persimmon in a lot of recipes though they don't have the same acidity so you might want to add an extra squeeze of lemon juice. Fuyus eventually do soften and the flesh can be used in much the same way as that of the hachiya.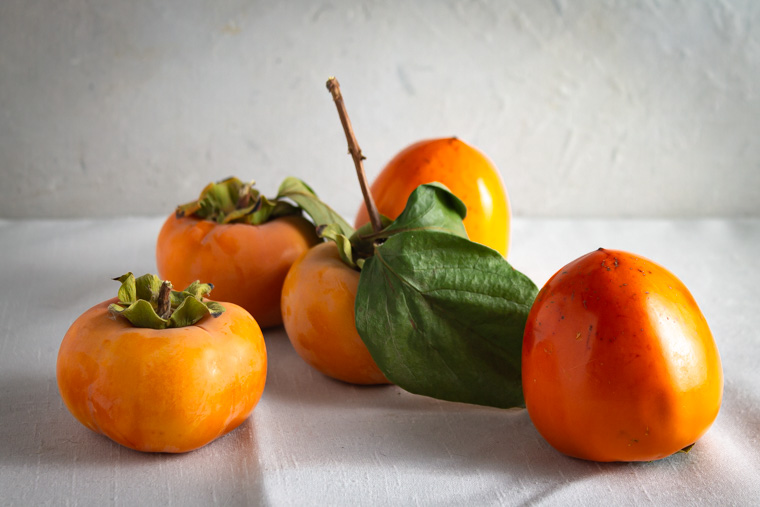 A (really small) Dash of Science
Getting Persimmons to Ripen
There are several ways to get persimmons to ripen after harvest or purchase. Either variety can be left out on the counter until they get to the point they are bright orange. I like setting them on a window sill, they're rather decorative that way. To speed up the process you can put the persimmons in a paper bag with a ripe banana or apple. This traps in the ethylene gases that all fruit releases as it ripens. This gas speeds up the ripening process of other fruit exposed to it. It's where we get the saying "One rotten apple spoils the whole bunch".
Conversely, you can also slow fruit from ripening by reducing the amount of ethylene gas that is given off. Cold does this for most fruits – there are a few exceptions like kiwis – as does a well ventilated area. In commercial warehouses they will often pipe extra carbon dioxide into the storage space to displace any ethylene.
Freezing Fruit
But a really fast hack for softening hachiya persimmons quickly is freezing. You only want to do this when the persimmon is bright orange all over otherwise it will still be bitter. But putting the persimmon in the freezer over night then allowing it to thaw breaks all the cell walls in the fruit so it becomes every soft. This same thing happens with almost all fruits, which is why frozen fruit can't always be used a direct replacement for fresh fruit. But it is really handy when you need your persimmons ripe fast.
Fuyu Persimmon Recipes
Savory
Roasted Acorn Squash with Black Grapes and Cardamom Persimmons from Life Currents
Savory Stuffed Persimmons from Healing Tomato
Persimmon Goat Cheese Tartlets from Yay For Food – These fall fruits really do well in goat cheese pastry appetizers, don't they?
Gluten Free Dressing (Stuffing) with Persimmons from Fearless Dining – A Bay Area food blogger!
Persimmon and Beet Salad with Pecans from Cooking with Carlee
Roasted Root Vegetable Salad with Persimmons from The Wine Lover's Kitchen  
Sliced fuyus on salad is always a great way to go:
Kale, sliced persimmon (skin on), red bell pepper, the roasted delicata from last year's fall salad, sunflower seeds, and the maple cinnamon vinaigrette from a salad earlier this year.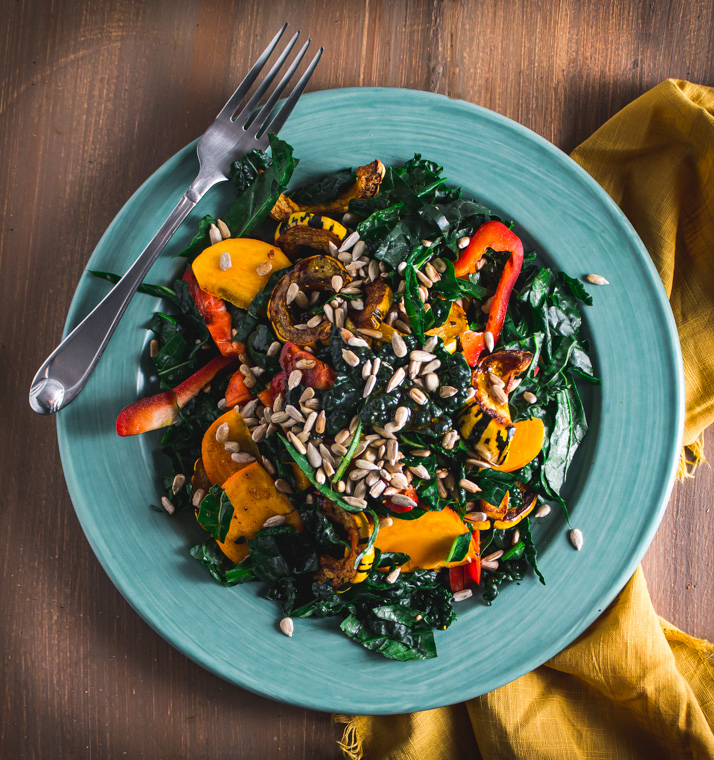 Sweet
Creamy Millet Porridge with Persimmons from Crumb Blog
Persimmon Snowmen from Chewable Structures – Theresa is another Bay Area local food blogger I've met. She does some really whimsical things with food!
Persimmon Cranberry Pie from The Little Epicurean
Spiked Holiday Cider from My Millennial Kitchen
Hachiya Persimmon Recipes
The hachiyas really do lend themselves to sweet recipes – they are practically a dessert pudding on their own when completely ripe and soft.
Persimmon Margaritas from The Boulder Locavore – Aren't cocktails great? You can use any type of persimmon in them!
Persimmon Ginger Sorbet from Caroline's Cooking
Persimmon Jam (without pectin) from Masala Herb – You can actually use either persimmon variety for this jam.

Persimmon Banana Breakfast Cookies from Toaster Oven Love – Cookies are definitely my kind of breakfast. I love ones that are essentially a bowl of oats with lots of sugar, fruits, and nuts.
Cinnamon Nut Stuffed Persimmons from Running To The Kitchen  – You can do sweet or savory with stuffed persimmons!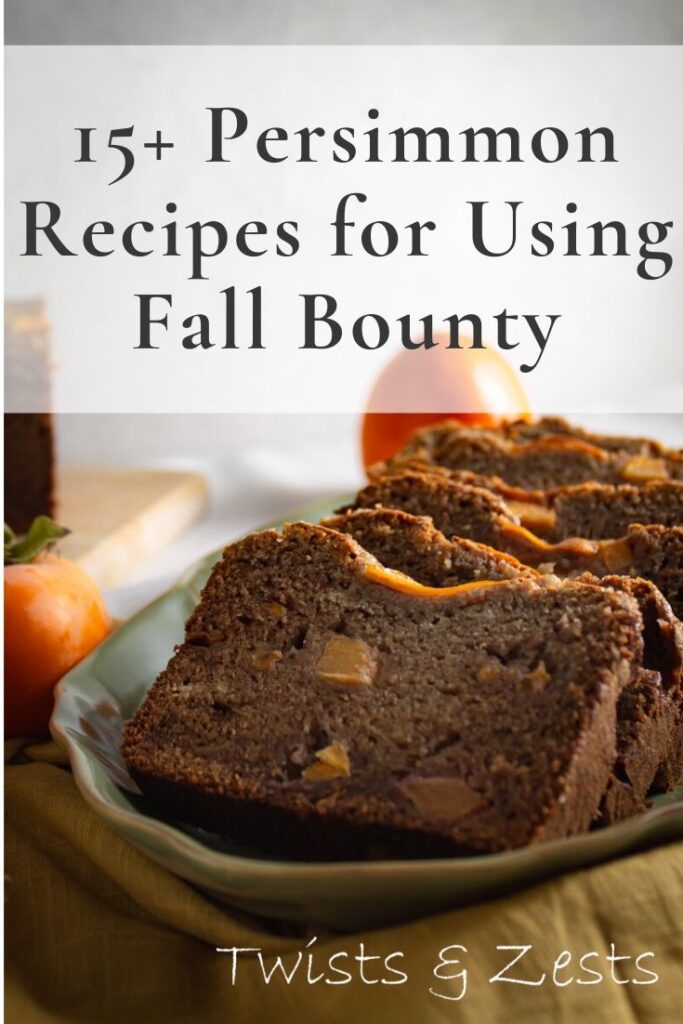 Persimmon Bread
Ingredients
1

c/290g Hachiya persimmon pulp

about 2 persimmons

2

eggs

¾

c/150g granulated sugar

½

tsp

salt

¼

tsp

ground cinnamon

½

tsp

ground ginger

½

tsp

ground nutmeg

½

c/115g unsalted butter

melted and slightly cooled

1

tbs/15ml rum

¾

tsp/3g baking soda

2

c/240g all-purpose flour

1

c/140g peeled and diced Fuyu persimmon

about 1 persimmon

5-6

thin Fuyu persimmon slices

peeled

2

tbs/25g brown sugar
Instructions
Preheat oven to 350F.

Grease and flour a 9" loaf pan. You can also add a strip of parchment for extra easy removal.

Beat persimmon pulp and eggs until mostly smooth and foamy.

Beat in sugar and all spices until well combined

Add melted butter and rum. Blend until completely incorporated.

Beat in flour and baking soda until just combined. Fold in diced persimmon.

Scrape into prepared pan. Flatten the top and place 5 or 6 thin slices of permission as desired. Sprinkle with brown sugar.

Bake for 60-70 minutes or until skewer inserted comes out clean.

Allow to cool in pan for at least 20 minutes before removing and allowing to cool to at least luke-warm.

Excellent toasted the next day.