Often, I like to work with the pieces of produce and meat that don't get much use. The tops of root vegetables, hock bones, and peels. Radish greens don't get a lot of love, except as the occasional odd pesto variant. Here I used that same principle but made it a little saucier to complement the fish I was working with (it would also work very well on chicken).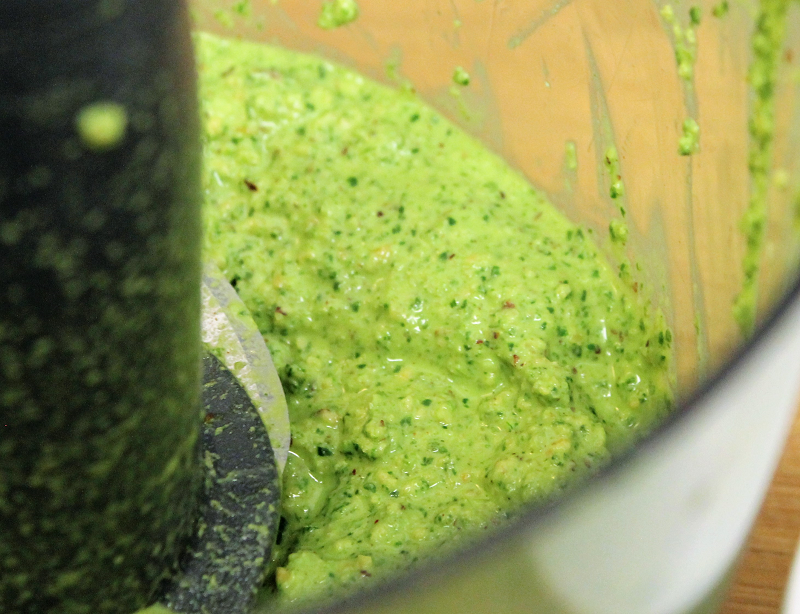 I don't cook or eat much fish. I didn't use to like it at all, but I've since realized that is mostly because of how it was prepared/varieties that were very intensely flavored. Also, not great for the environment and highly likely to have high levels of heavy metals, etc. Recently a colleague of H's presented us with several pounds of frozen yellowtail and yellow-fin tuna. Certainly not something I would purchase for myself, but worth experimenting with it if I have it anyway.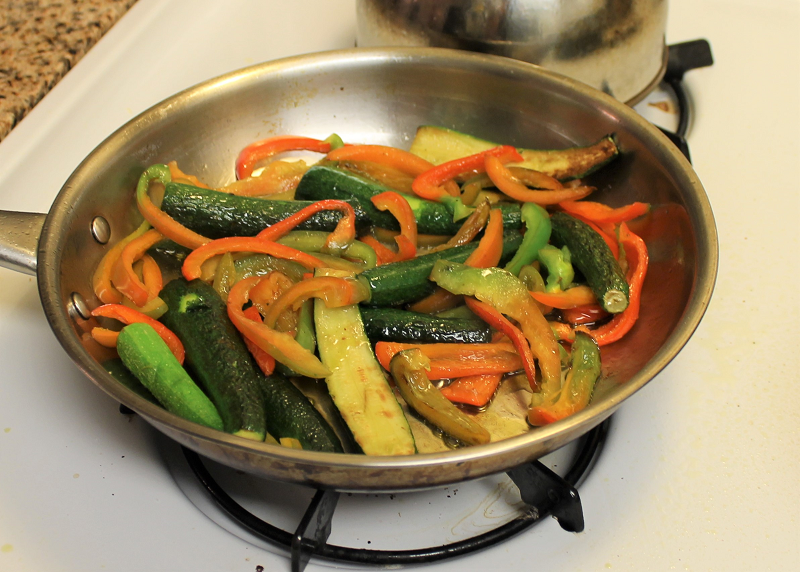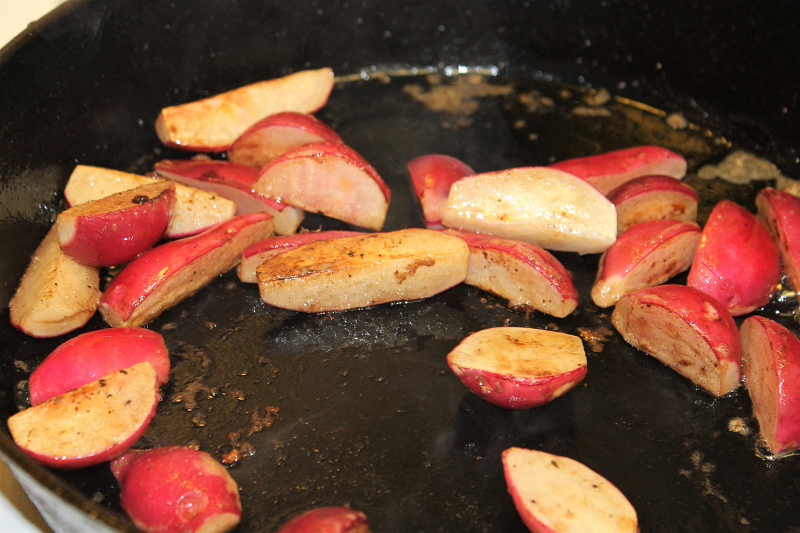 This is a dish I actually made much earlier in the fall, hence the zucchini and pepper accompaniment, but the primary dish can be made whenever fresh radishes are available. It can really be served with any vegetables – perhaps some lightly steamed asparagus early in spring? For the fish itself I elected to do a very simple pan sear in butter, focusing on a sauce with a complex flavor profile. Since I don't cook fish much, I did a bit of research and the recommended low temperature pan fry in butter rather than oil turn out very well. Not dry, but with a nice sear on the outside and it was very easy to flip.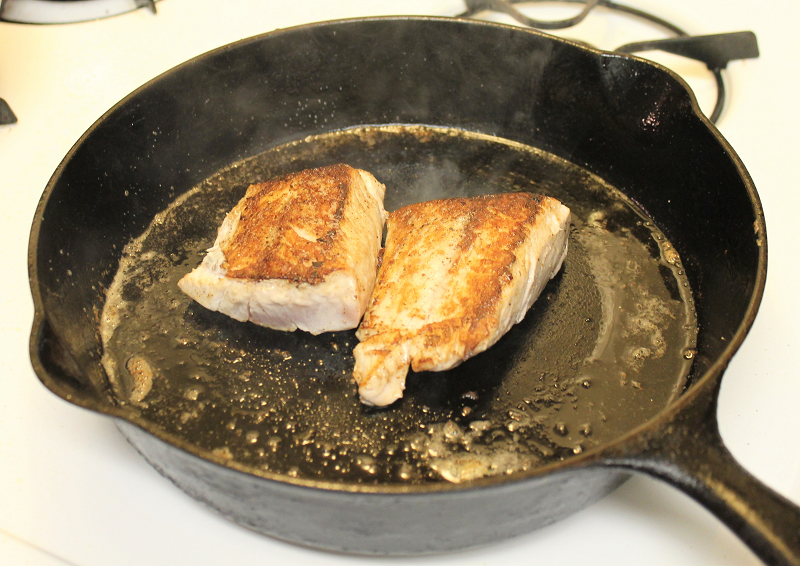 This sauce will make significantly more than you need for two people. If you are making for a crowd, it will probably serve up to 8. Cover extra and keep in the fridge. Mix with some more yogurt to make a salad dressing, serve it as a dip for some crusty bread, or toss on sautéed or roasted root vegetables.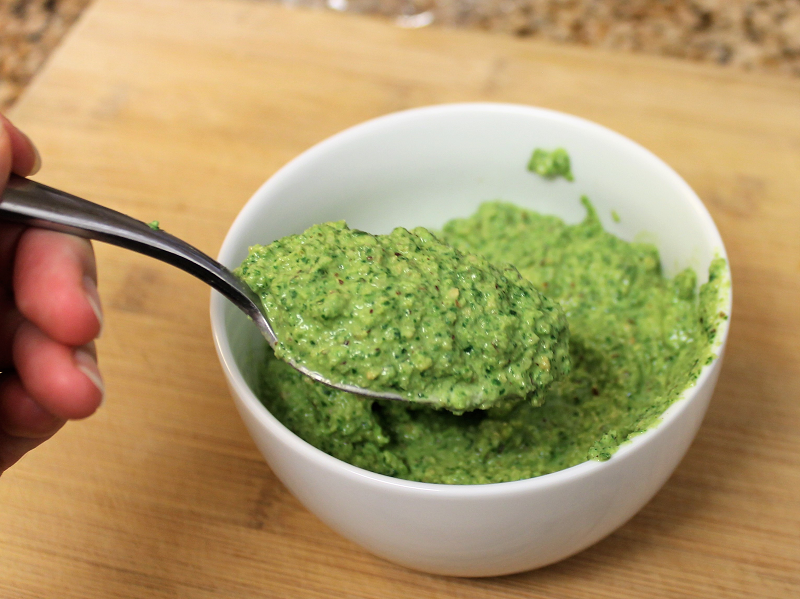 Fish with radish leaf sauce and seared radishes
Ingredients
Sauce
1

bunch/90g radish leaves

washed and damaged ones removed

½

c/75g toasted hazelnuts

2

tbsp/30ml olive oil

2

cloves/7g garlic

2

tbsp/30ml lemon juice

½

tsp

salt

2

tbsp/30ml plain yogurt

2

tsp/10ml honey
Fish and Radishes
1

bunch/250g

about 8 radishes, quartered or halved

½

lb/225g yellowtail or other mild flavored fish

2

tbsp/30g butter

Salt and pepper
Optional vegetable accompaniment
1

large/200g bell pepper

7

oz/200g baby zucchini

Olive oil

Fig balsamic reduction

or other balsamic reduction
Instructions
Sauce
Combine all ingredients in a food processor or blender and mix until it is a smooth paste.

Allow to rest for at least 30 minutes before use. Bring to room temperature or slightly warm before using.
Fish and radishes
Prepare 2 equal pieces of fish. Pat dry.

Heat butter in a heavy bottomed pan on medium.

Salt and pepper one side of the fish. When butter is just starting to brown, add fish seasoned side down to pan. Season other side.

Cook until 1st side is browned and edges of fish are opaque halfway through. Flip and continue cooking the other side until done. Actual times are going to vary depending on fish species and thickness of pieces.

Remove fish from pan and increase heat to medium-high.

Add radishes, so that each piece has one of the cut sides in contact with the pan. Cook for a minute or two and start turn the pieces as each side starts to get a bit browned. The radishes do not need to cook until they are soft all the way through, just browned on the edges.
Vegetables
Cut zucchini in half if necessary so that are the pieces are a uniform thickness or leave whole. Slice peppers into ¼" thick slices lengthwise.

Heat enough olive oil to lightly cover the bottom of your pan on medium-high until just about to start spitting. Add zucchini.

Stir frequently to turn the zucchini as the sides start to cook.

After about 2-3 minutes, add the peppers and continue sautéing for a further 1-2 minutes.

Add balsamic reduction and turn off the heat. Toss to coat all vegetables.
Plating
On the plate, drizzle about 3 tbsp of sauce over the fish and top with radish pieces. Add a serving of the vegetables.