As it has been mentioned previously, I can be very lazy in the kitchen. I really prefer to use as few dishes as possible and skip time consuming steps when there is an easier way. Usually it is not as pretty, but it is a lot easier for everyday meals. This is the perfect meal for a lazy person. It tastes wonderfully complex, but most of the cooking time you just walk away from it, and there is only one pan used!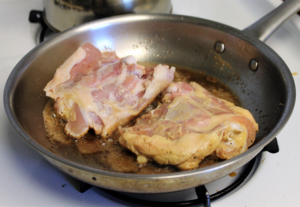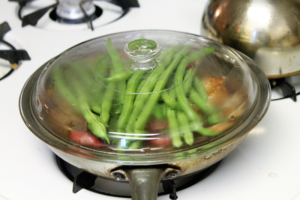 The strong player here is a creamy Dijon mustard – not sweet – but mildly spicy and lends a great flavor to dishes, particularly when combined with wine. The long simmer leaves the chicken nearly falling off the bone and the potatoes lightly seasoned. Adding the green beans at the last minute to steam on top of everything balances out the meal without it being a stew-like dish. Double the recipe and have some left over for lunches.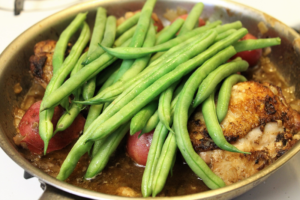 Dijon Chicken and Potatoes
Yields: Serves 2
2 chicken thighs, bone-in and skin-on
1 tbsp butter
½ medium onion, diced (1/2 c)
4 tbsp Dijon mustard
2 cloves garlic, minced (2 tsp)
1 c dry white wine
½ lb small red-skinned or Yukon gold potatoes, washed
½ lb green beans, washed and trimmed
Salt and pepper to taste
Ensure chicken pieces are dry. Apply 1 tbsp mustard each to the skin sides of the chicken.
Melt butter in a large pan (that you can cover) on high heat. When just starting to brown, add the chicken skin side down.
Apply another 1 tbsp of mustard to each piece of chicken (on the unseasoned side).
Cook the chicken on the first side for 3 minutes then flip.
Add the onions and garlic, stirring around the chicken. Continue cooking for 3 minutes on high.
Reduce heat to low. Add wine, stirring to loosen anything stuck to the bottom of the pan (adds a lovely caramelized flavor). Add potatoes. Cover and simmer for 25-30 minutes.
When chicken is cooked through, uncover pan and cook for an additional 15 minutes to reduce sauce. Add salt and pepper to taste.
Add green beans and cover. Cook for 3-4 minutes depending on the size of the beans and preferred doneness (we like them very crunchy).
Remove from heat and serve, ladling some of the sauce over the potatoes and the chicken.